Archives For french
In a globalized, interconnected world, foreign language skills are more important than ever before, and yet Americans do not tend to study foreign languages, with only 18.5% of K–12 public school students studying a foreign language and a mere 8.1% of college and university students enrolled in a foreign language course.
Sad. The poor educational techniques and inability to practice foreign languages through immersion play a big part in the poor language language learning statistics. Unfortunately many can go their entire lives without the need to learn another language.
I agree with the sentiments of this article and have found it to convey my personal opinions on the French election best. France is in dire straits and this presidential election is not going to solve the overarching problems which have plagued France for decades. Like in the US, France is divided and in search of an identity. Moreover it is stuck between two ideological opposites vying for control of the helm of the nation. The future in my estimations is bleak with increased possibilities of war and civil strife.
https://www.firstthings.com/web-exclusives/2017/04/france-is-a-broken-country#login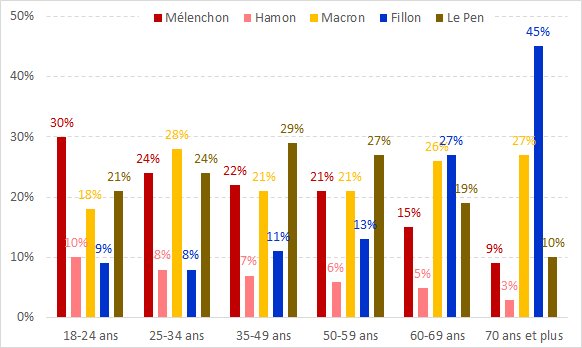 I think the election went as most political analysts expected things to turn out. Macron and Le Pen move on to the next run off round of the presidential election which takes place May 7th. I will be curious where the support for the other candidates decide to realign for the next round. I would not be surprised if the majority of the center right candidates support eventually finds its way to Macron ensuring his victory over Le Pen. I fear though this will be a hollow victory in the long term as Macron has not laid out any policies of real change. Macron does not appear to have a hard line stance on EU reform nor does he feel that domestic terror attacks are a major priority with the people. I fear these will be his eventual downfall. If Macron attempts to keep the status quo and salvage the sinking ship that is the EU then he will be dragging France down with him. My hope is that Le Pen will pull through simply because the demise of the EU will be accelerated. I don't necessarily agree with her views on overall French society but the current trajectory of the country is not feasible. But I predict Macron to win.